A trip to Spain is not complete without a glass (or bottle) of one of Spain´s many famous wines! Spain, as the third largest wine producer in the world, has a wide variety of red, white, and sparkling wines. In Spain it is very common to have wine with a meal, or sit and have a glass with friends while enjoying traditional Spanish tapas. Spain uses a regulatory classification system called the Denominación de Origen (Designation of Origin) that denotes the wine as the highest quality product from that region. There are many Spanish wine regions that have been given the Denominación de Origen, among the most famous are Rioja, Ribera del Duero, Priorat, and Penedès.
Rioja 
Rioja is a province in the north of Spain and one of the country´s largest and most famous wine regions, which has 1,200 vineyards and produces 278 million liters of wine a year! Rioja is one of the top two Spanish wine regions, and was the first to receive the most prestigious classification: Denominación de Origen Calificada.  In Rioja 85% of the wines produced are tintos (red wines) made from a mixture of predominantly Tempranillo grapes. Rioja red wines are distinguished by their earthy flavor that comes from the traditional oak barrel aging process. Rioja red wines are divided into four categories based on the length of the aging process. The first is Rioja, which is aged for the shortest period of time, spending less than a year in the oak barrels. Crianza wines are aged for two years, one year in the oak barrel and one year in the bottle. Rioja Reserva wines are aged for three years, with at least one year in the oak barrel. Finally, the Rioja Gran Reserva wines are aged for five years, two in the oak barrel and three in the bottle!
Priorat 
Priorat is the other top wine region in Spain, and the only other to have received the Denominación de Origen Calificada. Priorat is a county in Catalonia, the Northeast of Spain. Priorat is famous for its earthy red wines, which are made from a mix of Garnacha and Cariñena grapes. Priorat reds are thought to be Spain´s most exquisite wines. While Priorat wines tend to be a bit pricey, one can get a taste of the region´s flavor by trying wines from the Montsant area surrounding Priorat.
Ribera del Duero
Ribera del Duero is a rural wine region in central Spain just north of Madrid along the Duero river. Similar to Rioja, Ribera del Duero is famous for its red Tinto Fino wines made from Tempranillo grapes. Ribera del Duero wines also follow the same aging classifications as Rioja (Crianza, Reserva, Gran Reserva), however Ribera del Duero wines are typically aged in French oak barrels giving them a full bodied flavor with hints of vanilla, cinnamon, and clove.
Penedès
Penedès is a wine region in Catalonia near Priorat and just south of Barcelona. Penedès is one of the oldest wine producing regions in Spain. The area is most famous for its Cava production, which is a sparkling white or rosé wine. Cava wines, similar to Champagne of France, are typically dry but can also be Brut or Semi-Seco. Cava is made from a mixture of Xarel-lo, Macabéo, and Parellada grapes.
La Mancha 
La Mancha is the largest continuous wine producing area not only in Spain, but in the world! La Mancha is responsible for 50% of the country´s total wine production. La Mancha is situated in central Spain, which makes for very harsh growing conditions, and drought is very common in the extreme heat of the summer. In the past wines from this region were considered "low quality bulk wines," but since Spain joined the European Union there has been a sort of wine revolution in La Mancha. As it is the largest wine producing region, La Mancha makes a wide variety of both red and white wines.
Andalusia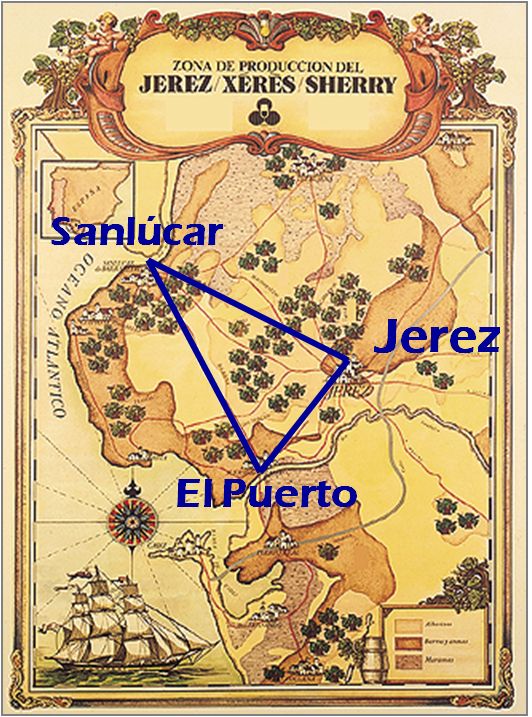 Andalusia in the southwest of Spain is famous for its Jerez, Sherry, production. On average Andalusia has 70 days of rain per year, so the sunny weather and warm temperatures are perfect for growing the Palomino grapes required for Sherry. In Europe any wine labeled as Sherry legally must come from the "Sherry triangle," an area in the province of Cadíz. Sherry comes in many varieties, ranging from the tradtional dry Fino, to the sweet Jerez Dulce.
Madrid
Last, but certainly not least, the country´s capital, Madrid has a wine making history that dates back to the 13th century!  Madrid is a highly populated metropolis, so the vineyards are contained to the south of the province, and the wine region is divided into three subareas. Arganda is the largest subarea, and both red Tinto Fino and white wines are made here. Navalcarnero is the smallest subarea, which used to be most famous for its rosé, but has now become recognized for its young red wines. San Martín de Valdeiglesia is the subarea to the west of Madrid near the Alberche River; here the dark-skinned Garnacha grapes are the most common.
(Photo: www.spanish-wines.org)
So there you have it, a glimpse at a few of Spain´s top wine regions! These wines can be found in stores all over the country and the world, but if you want a more first-hand experience of the wineries and vineyards, then check out any of the seven wine country tours that Bike Spain has to offer!
Sources: 
http://drinks.seriouseats.com/2014/04/wine-from-spain-label-regions-rioja-beginners-guide.html
http://www.espavino.com/spain_wine_region/spanish_wine_regions.php
http://www.cellartours.com/spain/spanish-wine-maps/
http://www.wine-searcher.com/regions-madrid
http://www.spanish-wines.org/madrid.html
Photo credit to the respective photographers
Front Page photo: Bike Spain Rioja and Duero Wine Tour